Commercial Architecture
An experienced architect or interior designer conceives and carries out your business space planning (offices, shops, restaurants, hotels…) for it to reflect your brand identity and company culture.
Reasons to hire an architect specialised in commercial projects
Architects are insured and possess all necessary clearances to engage in any construction works.
An interior architect or decorator specialized in commercial architecture is qualified to understand your needs and reflect your identity.
Architects can assist you with administrative work: application for a new construction permit, preliminary description of the work, etc.
Architect helps you during all stages of the renovation of your commercial space (retail, hospitality, offices, hotels).
Your architect conceives and executes a fit out project that suits your company's identity and the intended use of the premises, making sure all aspects of future usage such as opening times or employee wellbeing are taken into account.
Before starting the renovation process, the architect will create and share sketches so that you can easily visualise the future design of your commercial space.
Architects are able to negotiate and supervise quotes from several trusted contractors (suppliers, craftsmen, builders).
> See more examples of commercial architecture projects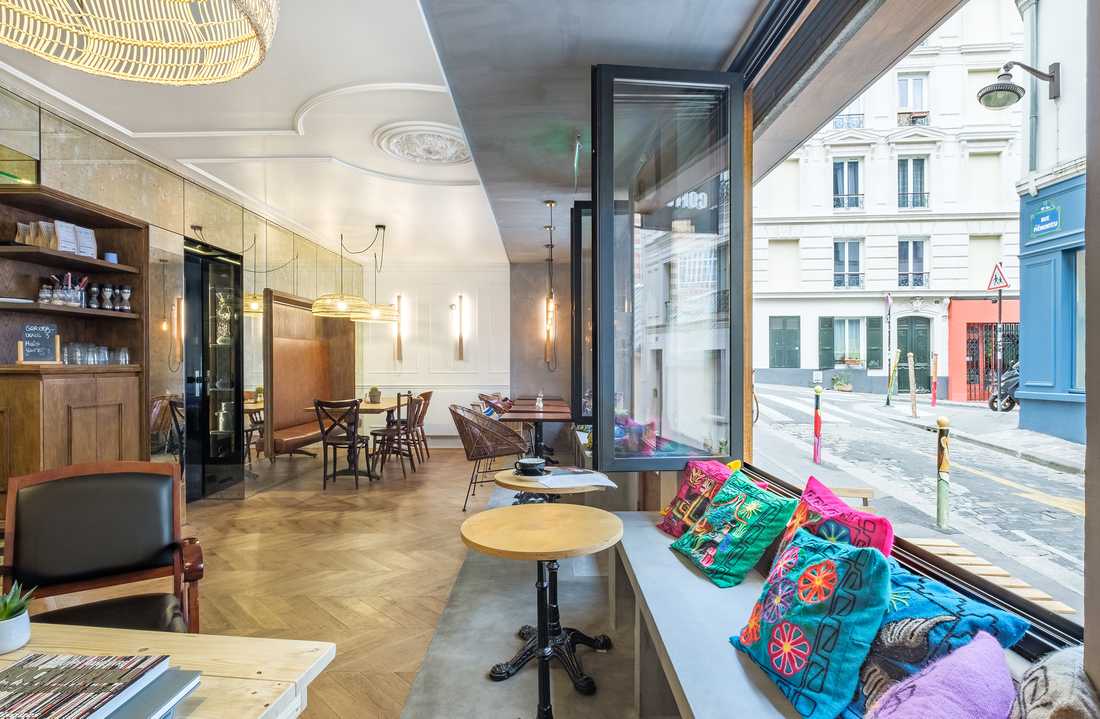 Commercial architecture project in Nantes: How it works
Your fit out project begins with personalised specifications based on your needs, brand or business identity and initial concept.
The point here is for the architect to provide results exactly matching your functional needs and the general expectations for a professional workspace, while staying within the estimated budget.
From the architect's suggestions and the expression of your needs, we can finetune the specifications for the commercial project progressively before executing the works.
First step: initial interview
In this first meeting, you share your needs and expectations for your commercial architecture project to the architect, whether you are looking to renovate a shop, hotel, restaurant, offices or any other type of public space.
You inform your architect about your personal taste in decoration and your functional needs. Example of Q&A for an office: what are the typical interactions between employees and business units? Is there a need for meeting spaces? Are there regulations for safety or sanitary standards to comply with? Answering these questions will allow the architect to understand the full scope of the project in order to create a space that is completely synced with your business.
During this first meeting, the architect also evaluates the potential of the raw space, its qualities (light, space reorganisation opportunities) and constraints (load bearing walls, cables/connections, building standards). - You will get some ideas on the fit out and the decoration on the spot.
At the end of the meeting, you define together the next steps of the mission and agree on your architect's involvement for the rest of the project.
Second step: specifications of your commercial project
During this stage of the project, your architect will collect all documents required prior to starting any construction or renovation:
From a site measure and based on your needs, the architect will provide you with fit out proposals in the form of sketches.
Once you agree on the main direction of the project, the architect produces complete specifications that will guide the renovation work: proposed floor plans, elevations, sections, electrical plans.
She/he will take care of applying for required building permits to relevant public bodies: city councils, reduced mobility organisations, safety commissions, administrative offices.
The architect will select furniture and materials (tiles, floorings, fittings).
After drafting the project's specifications (masonry, floor coverings, plumbing work), a request for quotes is sent to trusted contractors and suppliers in the Paris area. Contractors will be selected depending on the specifics of your project. The architects is able to read, understand and analyse quotes and negotiate when needed.
At the end of the specifications phase, you can decide to continue working with your architect during the execution phase. She/he will then supervise and coordinate the works.
Third step: works supervision and coordination
The architect is in charge of the planning and coordination of all works. It is her/his responsibility to coordinate with the several suppliers, contractors and craftsmen.
The architect will control the quality of the works and ensure that they are in compliance with the specifications.
Architects are responsible for organising regular meetings in order to keep you updated of the progress and respect of deadlines.
Also in scope of this stage: choice of furniture and of decorative objects.
Once the execution of the works is complete and all contractors have delivered according to specifications, the architect takes care of the final touches before you can open or reopen your shop, restaurant, hotel or office.
Fees for a commercial architecture project in Nantes
You can hire us for a single step of your choice or for all steps of the mission.
First step – initial interview

Free for commercial architecture projects.

Second step - Specifications for your commercial fit out
Surface ⩽ 70 m²
€60/m²
Surface between 71 & 140 m²
€50/m²
Surface between 141 & 240 m²
€40/m²
Surface ⩾ 241 m²
Contact us
Minimum billing
€2,100

Third step : Works supervision and coordination

Less than €70,000 of works
9% of the works amount
From €70,000 to €140,000
8% of the works amount
From €140,000 to €250,000
7% of the works amount
More than €250,000
Contact us
Minimum billing
€2,100
Exemple for a full mission
For a 55m² shop, restaurant or office:
Specifications for your project are invoiced €3,300.
If the total of craftsmen's quotes is €45,000, the cost of the monitoring/follow up stage will be 9% of it (€4,050).
The total cost for the full mission (specifications + supervision) will thus be €7,350.